"A customs officer hid a package of the banned substance in a side pocket of a randomly chosen suitcase in order to test airport security. Sniffer dogs failed to detect the cannabis and the officer could not remember which bag he had put it in."
Read the article here.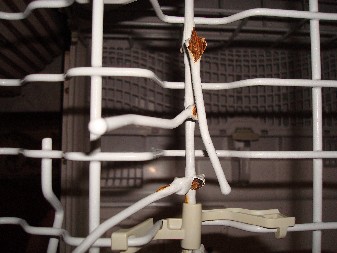 Modern dish racks are constructed of metal wires with a protective coating (typically nylon or polyvinyl chloride) that protects against the highly corrosive world inside a dishwasher. So when Mark Skillings emailed this image of this-dish-rack turned-rust-bucket from his 2003 Whirlpool Gold dishwasher, I briefly wondered just how sharp his knives are.
Clearly, the coating had been compromised. Mark assured me that in the five years he owned the dishwasher, he never washed knives in it because "It's murder on the blades and handles."  Maybe that explains all the cuts on his hands!
Rusted dish racks are among the most common consumer gripes about household dishwashers. In addition to the obvious scratching from sharp objects, the causes are numerous, including defects in the coating and degradation due to aging. 
Given how common the problem seems to be, it clearly isn't an easy, or more likely economical, design problem to solve. In fact, online I found plenty of patents on new techniques intended to address the corrosion issue. Many concepts seemed incredibly complicated (translation: expensive), like this one titled "Dishwasher with electrocoated dishrack" involving a multiple-layer takeoff on the old belt-and-suspenders solution.
Undoubtedly these strategies drive up the price, and that appears to be one trade-off that companies are unwilling to make, especialy in the era of big-box retailers. But I'm betting Mark and a whole lot of other people would be prepared to pay something more to avoid the hassle and cost of shopping for a new appliance every five years.