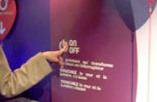 Do you believe this one? A French design company, Quarks Design, has apparently created a special paint that can be used to control appliances.
Coolest Gadgets reports the "Quarks has created a tactile 'switch', a fusion of paint and embedded electronic mechanisms that enable a wall to act as an electronic switch".
It quotes the APCI (Agency for the Promotion of Industrial Creation) as follows:
The principle here is composed of paint and an electronic mechanism. Once the ON/OFF paint has been applied to the wall, a simple touch detects the contact desired by the user to control an electrical appliance. This "switch" is no longer positioned at an exact location only a few square centimetres in size but on the entire surface of the wall. The paint can be applied with a roller or a brush, on any background (plaster, wood, concrete, plastic, etc.). It may be covered in a coat of paint the colour you want, or wallpaper, without losing effectiveness. ON/OFF may be combined with a lamp, an alarm, roller blinds or any electrically-controlled appliances. You can add another function to the unit such as a dimmer, timer or plug.
What this means is that a switch can cover a large surface, and the traditional 'mechanism' disappears because "the contact area location and dimension can be chosen easily, whether a strip, a whole wall or an isolated area".