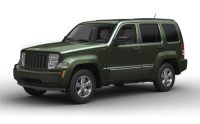 Thanks to reader Bob, from Milwaukee, for sharing this one with us, about his travails with his 2005 Jeep Liberty's RBQ 6-CD Changer… But will the "mother-ship" come to the rescue?
Bob writes:
I have gotten a lot of enjoyment out of the 6-CD changer that came stock  in my 2005 Jeep Liberty. Plenty of power out of 4 speakers and good clean sound. It has kept me company for many a long drive to Colorado from my home state, Wisconsin. Never had a problem not being able to play my own music mixes burned onto rewritable CD's either.
But the monkeys were there when they designed this "RBQ" 6-CD changer and they have not given me the real story to this day. The problem began when after 80,000 miles my car battery decided to call it quits. After tossing in a new battery and starting up the Jeep, I noticed that the CD option in the "am/fm/cd" mode selector on the changer was missing. Just gone completely from the menu. What's up with that? It is like the cd capability just disappeared. The only clue that it was a CD player was an occasional mechanical sound of the changer upon turning the radio on. AM and FM radio and everything else work just fine but 6 CDs are now being held hostage in the changer and no way to eject them either.

I tried every thing I could think of. Pulled the changer and looked for a reset button. I pulled the battery for a half hour and reconnected. Nothing. I tried pushing every combination of buttons on the changer hoping to stumble on the magic reset. Nada, zip, no cd.

Time for Google. I Googled everything on Mopar radios, Jeep radios, RBQ model radios/cd-changers and came up with a lot of the same, differing and vague responses. A lot of people claimed similar problems with their RBQ changers in their Plymouth Voyagers, Jeeps, and Ram trucks after a battery change or a blown fuse on the changer circuit. No one on any of the forums that I found information had mentioned the real fix.

A number of Chrysler "techs" came back with a variety of ideas. "Oh, that's a security feature in case the CD changer is stolen". "You will need to contact Chrysler and get a code. Nice, except every Chrysler dealer I talked to had no idea about any codes. Some of the dealers said there are no Chrysler changers that have a code. "Something else must be wrong", "Bring the car in and for $$$ we can hook it up to our "computer". Another said, "You have to keep 12 volts on the radio when changing the battery to keep this from happening". Or, "you can't play rewritable CD's on the changer… must have hosed it".

Now how insane is this? My owners manual says nothing about this. I have to take my car into the shop when ever I change the battery? Or blow a fuse on the radio circuit? Or disconnect the battery for whatever reason? That's nuts!! That's like saying your TV will never work again if it is unplugged but that's a security feature because sometimes TV's are stolen!! What???

So I finally found a friend of a friend of a friend who knows a guy who does financing at a Chrysler dealer about 30 miles from home. He talked to a tech that seems to think that the car needs to be plugged into the diagnostic "mother-ship" computer to determine the problem or reset the changer. So I am going to bring it in and see. Wonderful!

Really, what is the most dismaying? There is no information by Chrysler published anywhere (that I can find) on this problem. Nothing. It should be in the owners manual. The dealers should know and offer a free and instant solution. What is this world coming to?
Unfortunately, it seems Bob is not completely alone on this one. Put a search for "RBQ 6-CD Changer" into Google and see the results…