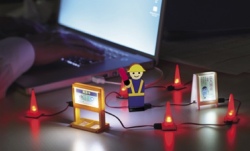 The planet is dying, we need to conserve resources. We need to go green, and reuse and recycle. Not waste precious electricity powering pointless diversions. I can't believe someone makes a USB-pwered construction site model set….
Though, you could possibly reuse the bollards as Christmas fairy lights. And it might amuse a child, for five seconds…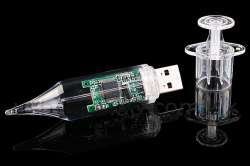 What next? A USB road repair gang? Actually, USB-powered noveties are an obvious rich-source for the pointless accessory. Okay, flash drives serve a useful purpose, but who could possibly want a Resident Evil 5 Chainsaw USB drive? Or a syringe flash drive?
(The same people can bring you USB Jewel Watch Necklace flash drives, Chocolate Bar drives, and USB Gold Bar drives, incidentally.)
Previous I can't believe posts:
* I can't believe someone makes… LED disco shower lights
* I can't believe someone makes… Snail Art Cars
* I can't believe someone makes… Electric paper plane launchers
* I can't believe someone makes… A wooden MacBook
* I can't believe someone makes… Rubik's Cube Calendars
* I can't believe someone makes… A mobile phone shaver
* I can't believe someone makes… An LED messaging mouse
* I can't believe someone makes… Swarovski Crystal LCD TVs
* I can't believe someone makes… Glowing writstballs
* I can't believe someone makes… Klingon keyboards