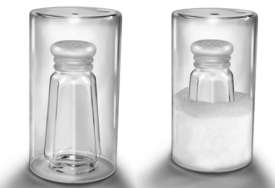 Silly, I know, but it made me laugh – the "Saltside Out" salt shaker. Thanks to Technabob for this one:
A clever handblown glass design by Jason Amendolara puts a glass void where the salt shaker would normally go, and the salt in the glass cylinder on the outside of the shaker.
You can buy these babies on Neatorama.com for $13.95.
For those who like detail, it is made from handblown borosilicate glass with silicone stopper, is 3.75in tall by 2in diameter, and was designed by one Jason Amendolara. Like it!
I notice they also sell a "Calf & Half Creamer" (see right), but it doesn't quite do it, for me.