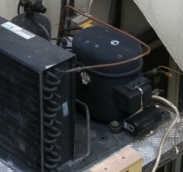 It's always great to receive reader submissions to the blog, so thanks to Nick for thinking of us and sending this one in.
The post on DIY air-con – Home-brewed air conditioning – caught his eye.
Nick writes:
Your recent article listed as Home Brew Aircon reminded me of something I saw in London last summer:-

I love the Heath Robinson ness of the thing. I would like to imagine that it runs at a higher efficacy that the standard unit next to it, but perhaps that's just fantasy. No doubt painting it black is a big winner.

I spent a happy hour on the tube train trying to guess what the origin of each if its components could have been.

(Note: I have no idea what the mark is on the top of the compressor, yes it does look rather like a gunshot!)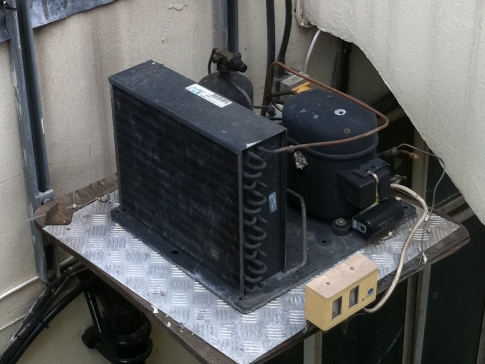 Click here for the full detailed image >>
We are in danger of getting very specialised here – DIY Aircons Weekly, perhaps – but do let us know of any other examples!