Recall Corner: Acer Aspire notebook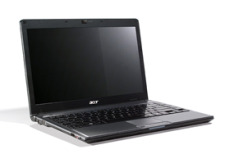 In the latest in our occasional series, Acer is the company standing in Recall Corner.
The company has issued a safety recall for some of its Aspire notebooks affected by an overheating problem, stemming from people applying "extreme pressure" to the computers with their left palm. 
Specifically, AS3410, AS3810T, AS3810TG, AS3810TZ and AS3810TZG models manufactured prior to 15 September 2009 may be involved.
"In the affected units the microphone cable may overheat when extreme pressure is applied repeatedly to the left palm rest. As a result, the unit case may become deformed and the system may malfunction," writes Acer, which is offering to replace microphone cables in affected units.
Acer has voluntarily instituted a safety recall program to proactively replace the microphone cable in the affected units to eliminate any risk of overheating.
Acer has provided a website giving more information. It includes a utility that lets you confirm whether a particular laptop is affected.
Previous Recall Corners:
* Lenovo, Nikon, Wal-Mart & Asda
1 Comment