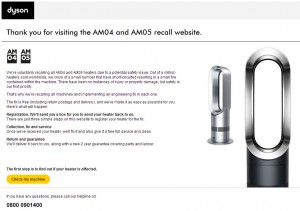 There have been no reports of injury or property damage, but the company is conducting an international recall. According to Engadget – "As if a legal battle with Samsung wasn't bad enough, Dyson has to put out a fire within its own walls now" – the entire sales run of around 1,000,000 units are involved.
You can see the official Dyson recall page for the UK » Dyson writes:
We're recalling all AM04 and AM05 heaters due to a potential safety issue. We know of a small number that have short-circuited resulting in a small fire contained within the machine. There have been no instances of injury or property damage, but safety is our first priority.
That's why we're recalling all machines and implementing an engineering fix in each one. The fix is free (including shipping and handling), and we've made it as easy as possible for you. Here's what will happen:
The company asks relevant customers to register their machine at the website, and then they can bring the machine to a local The UPS Store, for packing and shipping the device free of charge back to base.
As well as fixing the problem, Dyson promises a "free full service and clean", and a new two year warranty covering parts and labour when the machine is delivered back to you. Previous Recall Corner entries »