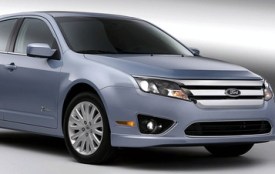 Recently we featured a hybrid car in Recall Corner and now here comes a whole fleet of contenders vying for the same parking slot! Start your engines, Ford Fusions, Milans, and Freestar SUVs (!), and also BMW Minis!
It's hard, in fact, to keep track of all the Ford recalls, across various models.
For Escape SUVs – with year range 2001 to 2002 being under the recall – the "brake fluid can leak from the master cylinder cap and lead to corrosion that could cause a fire," reports SlashGear.
Meanwhile, it says, the Freestar and Monterey vans are being recalled due to issues with the torque converter. "The output shaft of the torque converter could fail and cause a loss of power". Not what you want when overtaking, of course.
In total, the recalls affect more than 400,000 Freestar, Monterey, and Escape vehicles. Shane McGlaun writes:
The recall covers 205,896 Ford Freestar and Mercury clone Monterey vans. The recall also covers 244,530 Ford Escape SUVs along with an additional 40,000 Escape SUVs sold outside the US. The recalls are being handled in coordination with the NHTSA and were confirmed by a Ford spokesman.
"Two minor accidents are have alleged to have resulted over eight years, with minor injuries in one and no injuries in the other", according to a Ford spokesperson, reports Freep.com.
Meanwhile SlashGear also reports rather alarming problems with Mercury Milan vehicles, following the discovery that the wheels on certain 2010-2011 Ford Fusion and Mercury Milan cars "could fall off".
Chris Davies writes:
The issue, Ford told the Nation Highway Traffic Safety Administration, was spotted when lug-nut tightening was found to cause fracturing; if the drivers ignored the subsequent vibration warning signs, the wheels themselves could potentially detach from car.
This involves cars with 17-inch steel wheels, not those with alloy wheels, according to Ford…
Close behind the Fords came some bad news for the ever-popular Mini – see, for example, SlashGear's report – BMW Mini recall hits 235,000 vehicles
The problem, it seems, lies with an "electric water pump malfunction"…
Chris Burns writes:
What happens with this water pumps is that when it's supposed to be cooling the turbo charger, it can malfunction and cause the connected electronic circuit board to overheat. This malfunction can then cause the circuit board to smolder or outright catch fire. Mini drivers that this recall might affect should expect communication starting next month.
How many Minis are affected by the recall? It seems a sizeable 235,000, but a BMW spokesperson has said there haven't been any accidents resulting from the problem.