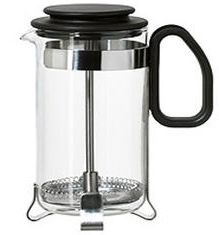 Flat pack furniture specialists Ikea are the latest to find themselves stationed in a newly redesigned, scandinavian-styled Recall Corner (situated in a dimly-lit shortcut between the lighting section and the cafe)…
The company has recalled its FÖRSTÅ coffee/tea maker, and is asking customers to stop using the product immediately and bring it back to any IKEA store for a full refund.
It reports:
Pressure from the metal holder on the glass pot can cause it to break unexpectedly, posing a burn and laceration hazard.

IKEA has received twenty reports of the glass pot breaking, including twelve reports of burn injures from spilt coffee/tea and one report of laceration injury.
The FÖRSTÅ coffee/tea makers come in two sizes – 0.4 litre and 1 litre – and were sold at IKEA stores worldwide between February – December 2010. They were made in China.