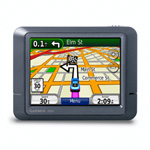 Garmin has navigated its way into Recall Corner.
The GPS specialists have voluntarily recalled certain nüvi devices, due to overheating issues.
The units in question – reportedly 1.25 million – contain a specific battery that was manufactured by a battery supplier within a specific date range. The company says:
Garmin has identified potential overheating issues when certain batteries manufactured by the third-party battery supplier within a limited date code range are used in certain Garmin nüvi models with a specific printed circuit board (PCB) design. It appears that the interaction of these factors can, in rare circumstances, increase the possibility of overheating, which may lead to a fire hazard. Although there have been no injuries or significant property damage caused by this issue, Garmin is taking this action out of an abundance of caution.
Affected devices include a subset of the following nüvi model numbers:
nüvi 200W, 250W, & 260W
nüvi 7xx (where xx is a two-digit number)
Thanks to Techeblog for flagging this one.
Previous Recall Corners:
* Recall Corner: Toshiba T Series laptops
* Recall Corner: Ferrari 458 Italia sports car
* Recall Corner: Maytag dishwasher
* Recall Corner: Sony VAIO laptops
* Recall Corner: Shock hazard WindTunnel Hoover
* Recall Corner: HP notebook Lithium-Ion batteries
* Recall Corner: Targus Universal Wall Power Adapter for laptops
* Recall Corner: Mares Nemo scuba dive computers
* Recall Corner: Lithium-ion Mobile Power Pack
* Recall corner: Remote control kits for electric fireplaces