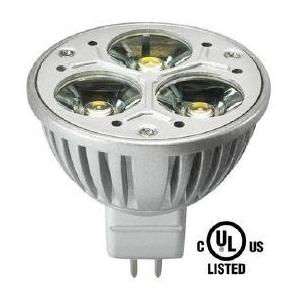 A new entrant to Recall Corner is the manufacturer Eco-Story, of Portland, Maine.
Last month it voluntarily issued a recall for 42,000 LED low voltage MR-16 lamps (sold between January 2007 and October 2010) due to concerns over overheating. When used without a Class II transformer, reports the US CPSC, the lamp can overheat, posing a fire hazard.
Eco-story says it discovered the issue when a customer reported that two MR-16s melted in their fixtures in mid-2010. These two instances, say the company, are the only times that it has received a report of such problems. No one has been injured.
According to CPSC, people should stop using the lamps immediately and contact Eco-Story for a free replacement lamp which does not require a Class II transformer. It says the company has already contacted all known commercial locations that purchased the lamp.
"We felt we took the best and safest course of action," said Bill Stauffer, Eco-story co-founder. "We did not want to put the burden of figuring out transformer types on the distributor or customer."
"We were advised that the chances of this problem recurring are slim, but we wanted to be proactive. We used the knowledge we received after testing the product to design the safest LED MR-16 that is now available on the market."  
According to the compnay, the new Eco-story LED MR-16 includes a dual fuse system, designed to "prevent against virtually any type of transformer power surge, system short or lack of grounding". It says that recalled products are being replaced with this new model.
Previous Recall Corners:
* Recall corner: Sump pumps and ground faults
* Recall Corner: Sharp 32in LCD TV
* Recall Corner: Garmin nüvi battery PCBs
* Recall Corner: Toshiba T Series laptops
* Recall Corner: Ferrari 458 Italia sports car
* Recall Corner: Maytag dishwasher
* Recall Corner: Sony VAIO laptops
* Recall Corner: Shock hazard WindTunnel Hoover
* Recall Corner: HP notebook Lithium-Ion batteries
* Recall Corner: Targus Universal Wall Power Adapter for laptops
* Recall Corner: Mares Nemo scuba dive computers
* Recall Corner: Lithium-ion Mobile Power Pack
* Recall corner: Remote control kits for electric fireplaces