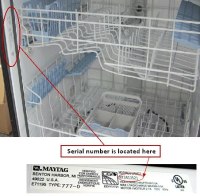 Maytag dishwashers are the latest entrant to our Recall Corner. An electrical failure in the dishwasher's heating element can pose a serious fire hazard, according to the company.
About 1.7 million units are affected by the recall programme.
Maytag states:
The recall includes Maytag, Amana, Jenn-Air, Admiral, Magic Chef, Performa by Maytag and Crosley brand dishwashers with plastic tubs and certain serial numbers. The affected dishwashers were manufactured with black, bisque, white, silver and stainless steel front panels. The brand name is printed on the front of the dishwasher.
According to the U.S. Consumer Product Safety Commission, in June, Maytag has received 12 reports of dishwasher heating element failures that resulted in fires and dishwasher damage. One report included extensive kitchen damage from a fire. No injuries, however, have been reported.
Serial numbers will start or end with a particular sequences, and these are detailed on the repair.maytag.com website.
Previous Recall Corners:
* Recall Corner: Sony VAIO laptops
* Recall Corner: Shock hazard WindTunnel Hoover
* Recall Corner: HP notebook Lithium-Ion batteries
* Recall Corner: Targus Universal Wall Power Adapter for laptops
* Recall Corner: Mares Nemo scuba dive computers
* Recall Corner: Lithium-ion Mobile Power Pack
* Recall corner: Remote control kits for electric fireplaces