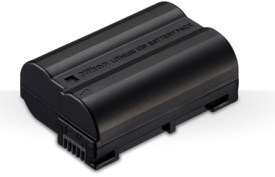 Nikon finds itself standing in recall corner, over the familiar issue of lithium-ion rechargeable batteries, to be exact, sold with Digital SLR Cameras.
The hazard? The battery packs can short circuit, apparently, causing them to overheat and melt, posing a burn hazard to consumers, writes the US Consumer Product Safety Commission.
The CPSC writes:
This recall involves Nikon EN-EL 15 rechargeable lithium-ion battery packs with lot numbers E and F. The battery pack was sold with the Nikon digital SLR D800 and D7000 model cameras. The battery pack's model number "EN-EL15" and "7.0V 1900mAh 14Wh" are printed on the back of the battery pack. Only battery packs with an "E" or "F" in ninth character of the 14-digit lot number located on the back of the battery pack are included in this recall.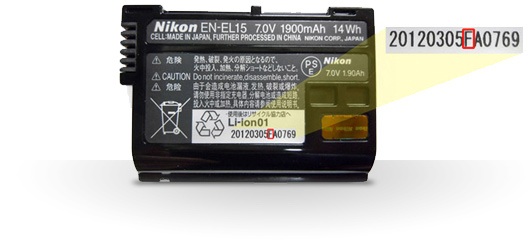 You can read about on the recall on the Nikon webiste:
Nikon Inc. is asking your cooperation in connection with a voluntary recall of certain lot numbers of its Nikon Model EN-EL15 rechargeable lithium-ion battery pack. The battery pack can experience a short circuit causing it to overheat and possibly causing the outside casing to become deformed, posing a potential hazard to consumers. There have only been seven (7) confirmed reports of incidents of the problem worldwide, and while no injuries have taken place, Nikon Inc. has initiated this recall of the affected lot numbers as a reflection of its commitment to safety and product quality. We are asking that owners of the affected battery pack contact Nikon Inc. to initiate a free product exchange.
Read the full details on the Nikon website >>
Previous Recall Corners:

* Recall Corner: Recall Corner: Lenovo power supply overheating
* Recall Corner: Ford motors crowd Recall forecourt
* Recall Corner: Hybrid car's batteries threatened by coolant leakage
* Recall Corner: iPhone, iPod battery cases warm to their task
* Recall Corner: Sony Bravia LCD TVs
* Recall Corner: LG Electronics humidifiers
* Recall Corner: Philips Lighting EnergySaver compact fluorescents
* Recall Corner: Pogoplug video sharing gets hot
* Recall Corner: Flaming toaster does more than burn toast
* HP lithium-ion battery recall reprise
* Recall Corner: Lacerating General Electric food processors
* Recall Corner: Ikea FÖRSTÅ coffee maker