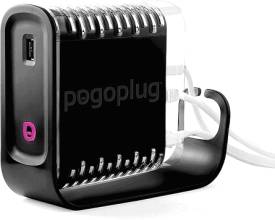 Media streaming, video sharing, digital convergence… they've long been a major theme of consumer electronics. But one company that joined the party is currently standing in Recall Corner.
Cloud Engines' Pogoplug Video File Sharing Device is being recalled due to a fire hazard.
The problem is that the unit can overheat, eventually emitting excessive heat, sparks, smoke or even catching fire. The company has apparently received three such reports of the units overheating. One device caught fire, one device emitted smoke, and one device melted, damaging the desk it was on, reports the Health Canada Safety Commission.
The box measures 2.5 inches wide by 7 inches deep and 5.5 inches, and as well as sharing videos, photos and music, it can provide remote access to files stored on drives attached to the device. You will know it by the word "Pogoplug" on its side.
About 10,000 units are affected, with 9,500 sold in the United States and 300 in Canada.
The recalled products were distributed from March 2011 to June 2011 in Canada and the US, and the device was manufactured in China.
Previous Recall Corners:

* Recall Corner: Flaming toaster does more than burn toast
* HP lithium-ion battery recall reprise
* Recall Corner: Lacerating General Electric food processors
* Recall Corner: Ikea FÖRSTÅ coffee maker