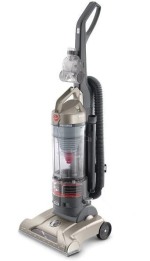 The latest entrant to Recall Corner is Hoover, and its WindTunnel T-Series Bagless Upright vacuum cleaners. Fire and electric shock hazards are the reason for the recall.
"The power cord is not properly routed or securely seated in the cord rewind assembly allowing the power cord to be pulled loose. This poses fire and shock hazards," states the US Consumer Product Safety Commission.
According to the CPSC, Hoover has received three reports of minor burns to carpet and furniture and one of a minor burn to a user's hand.
More details on the recall, including affected model numbers, can be found on firm's website.
Apparently, 108,000 units are involved. They are imported by Hoover but manufactured in Mexico.
Previous Recall Corners:
* Recall Corner: HP notebook Lithium-Ion batteries
* Recall Corner: Targus Universal Wall Power Adapter for laptops
* Recall Corner: Mares Nemo scuba dive computers
* Recall Corner: Lithium-ion Mobile Power Pack
* Recall corner: Remote control kits for electric fireplaces