Recall Corner: Sony AC adapter, Belkin power surge protector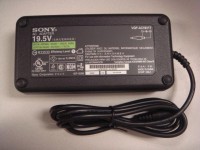 In the third in our occasional series, Sony and Belkin are the companies standing in Recall Corner.
Sony is recalling 69,000 Sony VAIO Computer AC Adapters, over concerns of possible electric shocks. They relate to adapters supplied with its all-in-one VAIO desktops and VAIO docking stations, reports Engadget.
The model numbers affected are the VGC-LT series and VGC-JS2 series (for the all-in-one VAIO) and the VGP-PRBX1 and VGP-PRFE1 (for the VAIO docking stations). Consumers should visit the firm's Web site at esupport.sony.com/ac19adapter for more info.
The US Consumer Product Safety Commission (CPSC) has issued an announcement. It includes the information:
Hazard: Insulation inside the AC adapter can fail over time, posing an electrical shock hazard to consumers.

Incidents/Injuries: Sony has received four reports of adapters short circuiting. No incidents occurred in the United States. No injuries have been reported.
The adapters in question were manufactured in China.
Still on power issues, Belkin has also announced a voluntary recall of a number of its SurgeMaster surge protector products.
The recall covers 68,700 protectors, reports SlashGear, which were sold between September 2003 and December 2007. The models involved in the recall are reportedly: the F9G930-10, F9G930v10, F9G930-10-W and F9G930-10-SN, which were all built in 2003.
The reason for the recall? Apparently plastic casing around the rotating outlets can break and again pose a hazard for possible electric shocks. No reports of injury have been made, but seven complaints over the cracking issue have been received by Belkin. The units were manufactured in Taiwan, states Belkin (that's China, according to the CPSC).
The CPSC states:
Hazard: The molding of the plastic 360 degree rotating plug, which allows for easy cord movement, can crack or detach from the plug assembly, posing a shock hazard to consumers.

Incidents/Injuries: Belkin has received seven consumer complaints about cracking of the plug molding. No injuries were reported.

Previous Recall Corners:
* Lenovo, Nikon, Wal-Mart & Asda