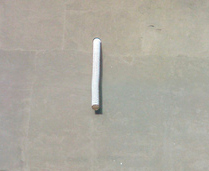 Thanks to "Panda" again for this one – following the pics of the "Juliet balconies" and the stairways to nowhere, he certainly pays attention to his surroundings.
"Just spotted this air con exhaust pipe coming out of the middle of the wall on our walk today," he writes. "Very weird."
Can anyone shed any light on this one? See here for the full picture and strange effect.