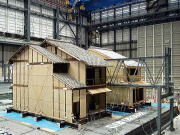 Now this is what I call serious, large-scale testing. Check out this interesting article from our sister site New Scientist – Japan's record-breaking quake shaking table.
The seriousness and need for such testing is obvious, but it is an outstanding work of engineering. The base of the table – upon which structures for shaking can be placed or built – measures 20 metres by 15 metres. It can take a load of up to 1200 tonnes…
Apparently, the Hyogo Earthquake Engineering Research Centre was built following a magnitude-6.8 earthquake that devastated the city of Kobe. The decision was taken to build the 3-D Full-Scale Earthquake Testing Facility – otherwise known as the world's biggest shaking table.
The facility is so large, for example, that back in 2005 it could hold two test structures:
"One for an actual built house relocated from Kyoto city and the other for a house newly designed and built in the similar timber frame method as one relocated from Kyoto based on new design method were shaken at the same time to clarify their earthquake-resisting capacity."
More recently, in December 2010, four-story reinforced concrete and post-tensioned concrete buildings were tested:
"In the experiments, both of the PPC structure and the RC structure were shaken at the same time (the PPC structure at the front and the RC structure at the back of the video). As for the two 4-story buildings, the story height of each floor was 3.0 m, and the long side of the rectangular plane was 14.4 m and the short side was 7.2 m."
You can see full details on this (English language) site >>