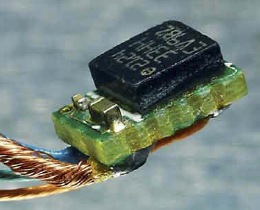 It's always great to get feedback, suggestions or tips from readers, so thanks to Michael M for flagging this one. He enjoyed the recent racing car simulator post, and added:
"As an FYI, the FIA Journal, the newsletter of the FIA Institute, which seeks to develop and improve motor-sport safety and sustainability, has just published an article aiming to use accelerometers to learn more about crashes and make F1 cars safer."
Measuring 3mm wide, the tiny chip in question features some "serious engineering" that could potentially help save lives and has been produced by STMicroelectronics working in conjunction with the FIA Institute. According to the report, it's an accelerometer of the type that you might find in a smartphone or tablet, but it has been specifically designed for use in sport, with the FIA Institute adapting the sensor for use by racing drivers. Inside their very ears!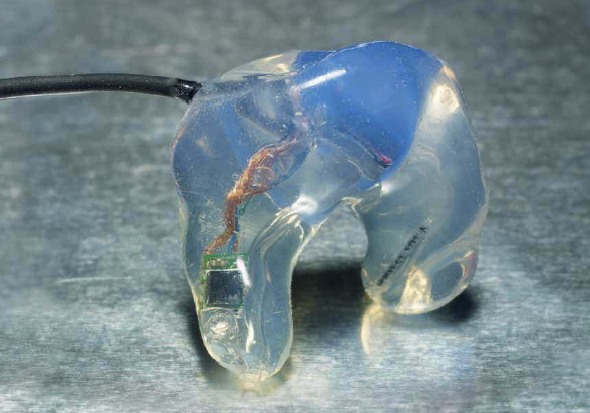 That is to say the chip is housed in a silicon gell moulding (pictured above) that is tailored to the ear-canal shape of individual drivers. Such a snug fit, apparently, will enable highly accurate recordings of head acceleration and deceleration during an accident.
"There is so much we can learn from a crash if we have the right information," says FIA Institute research consultant Andy Mellor, who's been leading the project. "For the last few years we've relied on Accident Data Recorders and these have given us hugely important information after a crash. However, they only tell you about the forces acting on the car. So the possibility of tracking the motion of the drivers themselves is a major breakthrough. The information from the accelerometer could give a precise kinematic of the head and the timing of the head movement during an accident."
Currently, Mellor says, the only way for safety researchers to study the forces on a driver's head is to conduct a full-scale sled reconstruction in a test lab. While the results are effective, they can take a long time to run and are extremely expensive. The hope is the tiny sensor will speed up that process.
"In high-g impact accidents, such as the one suffered by Sergio Perez at the 2011 Monaco GP, you could have the information immediately. Doctors could use it to potentially assess what course of intervention they might need to take. Safety researchers could know straight away whether more work should be done on things like head rests or seat positions. It will all add to our knowledge base."
Potentially, he believes, the new information could have a major influence on motor sport, from car design to equipment manufacture.
"Just having that knowledge will take us into a world we haven't really been in before. Ultimately it will be helping us to design better cars; to make better safety equipment such as harnesses and helmets; to improve the positioning of the driver within the car with better seats, surrounds and side support."