Brilliant Blunders – from Darwin to Einstein – in book form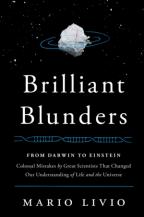 "Ever tried. Ever failed. No matter. Try again. Fail again. Fail better."
The classic Samuel Beckett line, from "Worstward Ho", embodies the spirit of Made By Monkeys, I like to think, and its motto of learning from mistakes.
In that vein, space had to be found on Made By Monkeys for this book – Brilliant Blunders: From Darwin to Einstein – Colossal Mistakes by Great Scientists That Changed Our Understanding of Life and the Universe ("a singular tour through the world of science and scientific achievement").
The idea is that while Charles Darwin, William Thomson (Lord Kelvin), Linus Pauling, Fred Hoyle, and Albert Einstein may all have been brilliant scientists – making huge contributions to their respective fields of study – thay also all stumbled badly at some point…
The book is described thus:
We all make mistakes. Nobody is perfect. And that includes five of the greatest scientists in history – Charles Darwin, William Thomson (Lord Kelvin), Linus Pauling, Fred Hoyle, Albert Einstein. But the mistakes that these great scientists made helped science to advance. Indeed, as Mario Livio explains in this fascinating book, science thrives on error; it advances when erroneous ideas are disproven. All five scientists were great geniuses and fascinating human beings. Their blunders were part of their genius and part of the scientific process. Livio brilliantly analyses their errors to show where they were wrong and right, but what makes his book so enjoyable to read is Livio's analysis of the psychology of these towering figures. Along the way the reader learns an enormous amount about the evolution of life on earth and in the universe, but from an unusual vantage point — the mistakes of great scientists rather than the achievements that made them famous.

"Charles Darwin, William Thomson (Lord Kelvin), Linus Pauling, Fred Hoyle, and Albert Einstein all made groundbreaking contributions to their fields—but each also stumbled badly. Darwin's theory of natural selection shouldn't have worked, according to the prevailing beliefs of his time. Lord Kelvin gravely miscalculated the age of the earth. Linus Pauling, the world's premier chemist, constructed an erroneous model for DNA in his haste to beat the competition to publication. Astrophysicist Fred Hoyle dismissed the idea of a "Big Bang" origin to the universe (ironically, the caustic name he gave to this event endured long after his erroneous objections were disproven). And Albert Einstein speculated incorrectly about the forces of the universe—and that speculation opened the door to brilliant conceptual leaps. As Mario Livio luminously explains in this "thoughtful meditation on the course of science itself" (The New York Times Book Review)
Thanks to New Scientist for highlighting the book (which I have yet to read), as part of its pick of holiday reading (note, the draw to win the books is already closed).
The full list of books? Here they are: