Carelman's Impossible Objects find new home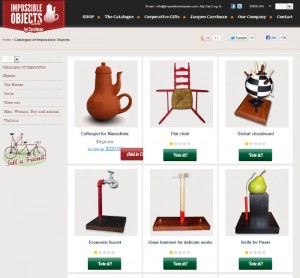 Impossible Objects has long been a popular series on the blog, and it was inspired by the French artist Jacques Carelman. When the series started it was quite hard to see his work online, but a new site is showcasing his work. They say they are making some of it available for sale, to scale (but it seems to only be the coffeepot for masochists that can be bought). Check out its full "catalogue" » It also has a section about Carelman:
He was born in 1929 and since 1956 has lived in Paris where he began by making sets for theaters and book illustrations. He's known worldwide mainly for his Catalogue d'Objets Introuvables (Catalog of Impossible Objects) published in 1969 as a parody of a sale by mail catalogue, emulating the style of the famous Manufrance. Since 1972, with his first show, and without interruption, his objects have been showed  in many museums, art galleries, fairs and halls across Europe, Canada, USA, Latin America and Japan. He himself explained this by saying: "Human activities are countless and varied. Some make airplanes, others turn into public funds or into a conversation. Personally, I prefer to strip common objects of their normal use. It's less dangerous, more honest and infinitely more fun! My objects, as opposed to objects worshipped by our consumer society, are perfectly useless."
Sadly, he died quite recently – 29 April 2012. Pictured, right, is a Kangaroo rifle.

Related Tech News
Share your knowledge - Leave a comment