Ig Nobel Awards cast their net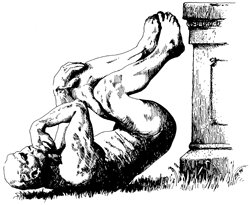 Hijacker traps, running on the moon, sleeping cows…
Room always has to be found on Made By Monkeys for the Ig Nobel Awards, with the 2013 ceremony running last night.
It's a prestigious gig these days. The venue was the Sanders Theater, Harvard University, with many of the winning academics attending along with more than a thousand spectators, and one Nobel laureate, Eric Maskin, reading aloud an acceptance speech sent by the winners of the Public Health Prize…
Winners of 2013 include:
SAFETY ENGINEERING PRIZE: The late Gustano Pizzo [USA], for inventing an electro-mechanical system to trap airplane hijackers — the system drops a hijacker through trap doors, seals him into a package, then drops the encapsulated hijacker through the airplane's specially-installed bomb bay doors, whence he parachutes to earth, where police, having been alerted by radio, await his arrival. US Patent #3811643, Gustano A. Pizzo, "anti hijacking system for aircraft", May 21, 1972.
PHYSICS PRIZE: Alberto Minetti [ITALY, UK, DENMARK, SWITZERLAND], Yuri Ivanenko [ITALY, RUSSIA, FRANCE], Germana Cappellini [ITALY], Nadia Dominici [ITALY, SWITZERLAND], and Francesco Lacquaniti [ITALY], for discovering that some people would be physically capable of running across the surface of a pond — if those people and that pond were on the moon.
REFERENCE: "Humans Running in Place on Water at Simulated Reduced Gravity," Alberto E. Minetti, Yuri P. Ivanenko, Germana Cappellini, Nadia Dominici, Francesco Lacquaniti, PLoS ONE, vol. 7, no. 7, 2012, e37300.
PROBABILITY PRIZE: Bert Tolkamp [UK, the NETHERLANDS], Marie Haskell [UK], Fritha Langford [UK, CANADA], David Roberts [UK], and Colin Morgan [UK], for making two related discoveries: First, that the longer a cow has been lying down, the more likely that cow will soon stand up; and Second, that once a cow stands up, you cannot easily predict how soon that cow will lie down again.
REFERENCE: "Are Cows More Likely to Lie Down the Longer They Stand?" Bert J. Tolkamp, Marie J. Haskell, Fritha M. Langford, David J. Roberts, Colin A. Morgan, Applied Animal Behaviour Science, vol. 124, nos. 1-2, 2010, pp. 1–10.
Read the full list of winners »
The Ignobel Awards are run by Improbable Research, an organisation highlighting research "that makes people laugh and then think". As well as the awards, it publishes a magazine called the Annals of Improbable Research.
If you want to watch the whole 2013 event – the live stream – see the YouTube video below
Image: The Stinker
See also: The glorious IgNobel Awards (2012) are awarded