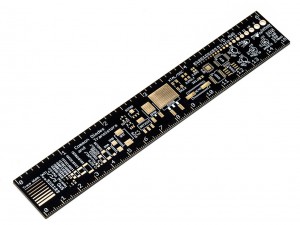 It's a little "PCB ruler" that is embellished with markings to indicate trace width, a wire gauge chart and the size of common diodes and resistors, among other things… basically, a quick way to reference all the different sizes of components and elements on a board.
It's a neat looking product, but he has spotted one small thing…
Ian writes:
Regarding the actual item I want to submit, its a brilliant little device made by 'Adafruit'. Its really clever idea and I actually want one! It has one design oversight in that the imperial ruler along one edge is scaled in 1/8″ increments!

I have never seen a PCB laid out on a 0.125″ grid and I don't know of any PCB designers who, even in these metric times, are not familiar with the component dimensions being based on 0.1″ or subdivisions of it.
We won't really hold that against it!
Adafruit writes:
Measuring approx 1″ x 6″, this standard-thickness FR4, gold plate ruler has the most common component packages you'll encounter. It also has font size guide, trace-width diagram, and a set of AWG-sized drills so you can gauge your wire thicknesses. Edges are labeled in inches with 1/8th marks and cm with 0.1cm marks.
The six-inch, ruler will cost you five online dollars.
Tempted? Anything else that should be included on the 'device'? Share your thoughts by leaving a comment below.