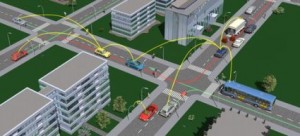 This was one of the messages from experts in the automotive and telecommunications industries speaking at the Cambridge Wireless conference this week.
Speakers at the 'State of the Nation',  hosted by the Hethel Innovation Centre included Mike Short of Telefonica, Roger C. Lanctot, from Strategy Analytics, Ireri Ibarra of MIRA, Nick Smith of the Home Office and Martin Green from Visteon Engineering Services.
"Secure and ubiquitous wireless communication between vehicles and the broader infrastructure has the potential to enable unprecedented social change with future generations of connected vehicles and transport systems," said Andrew Ashby, responsible for new business development at Plextek Consulting and a champion of the Cambridge Wireless Automotive & Transport SIG (Special Interest Group). 
It is expected that the implementation of integrated and autonomous transport communications will require collaboration across a range of industry sectors.
"It's not just about in-car entertainment and user experience," said John Okas, Strategic Wireless Business Consultant at Real Wireless.
"Drivers, passengers, road and transport operators, manufacturers, academia and governments are looking for solutions to overcrowding, escalating costs, delays causing lost hours and reducing death and injury on the roads. Wireless technology will play a pivotal role in solving these challenges and this new SIG is therefore perfectly placed to focus minds and accelerate the process"
And according to Roger C. Lanctot, Associate Director in the Global Automotive Practice for Strategy Analytics, "LTE is the greatest source of change in value proposition and user experience for the customer and car maker. Bluetooth, Wi-Fi, NFC and satellite connectivity are all playing a role, but LTE deployment is the biggest wave sweeping the connected car, creating opportunities for new technologies and applications."
Professor Mike Short CBE FREng FIET, Vice President of Public Affairs, Telefonica Europe looked at the world of internet on wheels and how safety and real time mapping might be integrated into new and second hand vehicles, including the possibility of mobile tachographs or integrated solutions for energy management and insurance.
Ireri Ibarra, Chief Engineer, Functional Safety at MIRA spoke about how road transportation systems can incorporate more automated features and still be as safe and secure; while Nick Smith, Senior Policy Manager, OSCT, Home Office set out the background to the Government's Security Industry Engagement Team and how it will support innovation and promote growth within the security elements of the transport and automotive sector.