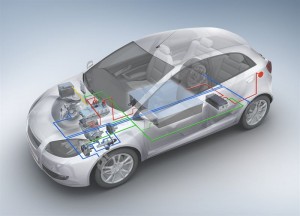 The German automotive technology firm believes that transmission technology will soon find its place in electric vehicles, just as it has in petrol and diesel vehicles, as drivers and manufacturers seek out greater efficiency and driver engagement.
Bosch believes that changing gears will soon be part of the electric vehicle.
"High-precision automatic transmissions are essential in hybrid vehicles to ensure that the combustion engine and electric motor are synchronised with each another, but such transmissions could also find their way into pure electric vehicles."
According to Bosch:
"Electric motors have no difficulty in running up to 20,000 revolutions per minute (rpm) – compared to petrol or diesel engines, which usually only run up to a maximum speed of around 9,000 rpm – and so can run in a single gear, without the need for a transmission."
Most electric vehicles effectively operate in one gear without any need to change up or down – with reverse and neutral as the only options.
Bosch expects at least 6.5 million hybrids, 3 million plug-in hybrids, and 2.5 million all-electric vehicles, alongside some 100 million petrol and diesel cars.
In 2013, there were 1.5 million hybrids, 90,000 plug-in hybrids, 100,000 all-electric vehicles and over 60 million petrol and diesel cars sold worldwide.
In 2013, more than half of all new cars and light commercial vehicles sold had an automatic transmission.