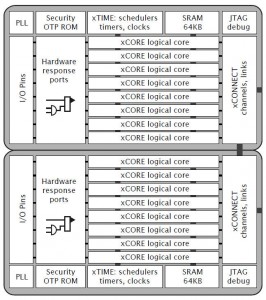 "The xCORE architecture is a fit for many applications in the automotive space, from infotainment and driver assistance to powertrain control," said Dr Paul Neil, v-p of product management at the firm. "Completing AEC-Q100 qualification is a key step for us."
The architecture "lends itself to modular redundancy and safety-critical operation. The company's microcontrollers have already been designed into a number of next-generation automotive products", said XMOS.
The first AEC-Q100 product is the XS1-L16A-128, a 16 core microcontroller that offers up to 1,000Mips.
The cores in the firm's microcontrollers have fast, low latency response to external signals, and deterministic behaviour. Unlike conventional microcontrollers, it is the cores themselves that are configured into peripherals and interrupt handlers, as well as processing units.
"Like all xCORE devices, the XS1-L16 can be configured with the exact range of interfaces and peripherals required for the developer's application, via a C-based programming environment," said the firm.
It has championed the Ethernet AVB standard, which has already emerged as a technology for in-car infotainment distribution, and is now being looked at for driver assistance and body control.
"XMOS has already demonstrated Ethernet AVB communications via a twisted pair connection using BroadR-Reach, a key step forward in satisfying the cost and reliability requirements of automotive OEMs and tier 1 suppliers," it claimed.
AEC-Q100-qualified versions of the XS1-L16A-128 are available immediately, with 6, 8, and 12 core versions planned for the second half of 2014.