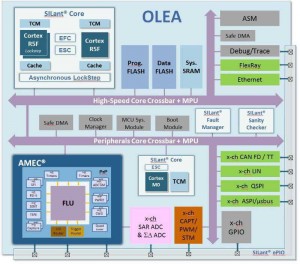 Called Olea, it has two 300MHz 32bit ARM Cortex-R5F cores, one in lock-step configuration. There is also a Cortex-M0 for I/O processing.
"OLEA is designed to face emission and fuel economy regulations such as the Euro 6/7 and CAFE standards," said the firm. "It enables powertrain architecture with centralised engine and transmission control, or combined electric motor control and powertrain supervision."
Within it, according to the firm is:
'AMEC', a hard real-time, deterministic and parallel signal processing unit directly controlling and interfacing with actuators and sensors. "Its core technology relies on the unique combination of a flexible logic unit and power-train-ready peripherals set".
Take the Electronics Weekly UK Salary Survey 2014 »
And a set of safety features called 'Silant' is there "to ensure system integrity at both hardware and software level. Silant incorporates hardware safety mechanisms, achieving ASIL-D ISO 26262 compliancy", said the firm. It also includes an access security module (ASM) "which offers a high-degree of application protection against malicious hardware and software attack due to tampering, theft and fraud".
On-chip are: 8Mbyte flash, 512kbyte system memory, two ADCs, 64 channels of 2Msample/s SAR ADC and six channels of ?? ADC sampling up to 300kHz.
Interface ports include: USART, LIN, CAN, TT-CAN, FlexRay and Ethernet, as well as SPI, PSI-5 and SENT channels.
For debug, test and calibration, there is a JTAG port and ARM serial wire. "For on-chip events traces and data measurements, Olea offers within its emulation device an extend trace memory together with an Aurora Gbit and an ARM ETM trace port," said Scaleo.
Qualification is AEC-Q100 Grade 1 qualified for operation between -40 and 125°C ambient. The first qualified product ready for production in volume will be available in Q1 2015. "ISO 26262 SEooC [Safety element out of context] products are available to enable customer safety design assessments", said the firm.
There is a starter kit, and a family of similar products are planned from 2 to 8Mbyte flash, 64-256 power-train events channels, and packaged from caBGA 516 down to PQFP 176.