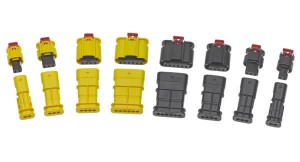 Called MXP120, it can handle up to 13A and is claimed to ba able to replace common 1.5mm systems.
Compatible with AK and USCAR interfaces, the MXP120 is designed according to the international AK cavity definition.
Connectors in yellow housings are qualified according to T3-V2-S2 (+125°C , 250m/s²)  for in-vehicle safety systems.
Black housings with standard USCAR polarisation options will follow. These housings are being validated to meet T4-V4-S3 specifications (per GMW3191) for high-performance (155°C, 300 m/s²) for use in space-constrained powertrains.
"New applications are also emerging in vehicle body-electronics for compact direct or in-line connections with lower performance requirements [125°C, 30m/s2)," said Molex. "The black connectors will be equally well-suited for many industrial and consumer applications where sealing is required and package size is a constraint."
Receptacles have a locking-latch that provides an audible click upon latching. A bridge over the latch protects it from potential damage or permanent stress during packaging and storage and helps ensure latching performance is maintained during service life.
The single wire seal (SWS) with a perimeter seal can withstand spray environments to IPx8 levels.
"It features an enlarged 'connector position assurance clip [CPA] for superior ergonomics and to reduce the risk of breakage or pre-seating prior to mating. After connector mating, the CPA and the latch combine to stabilise the connector interface without impact to the mating force," said the firm.