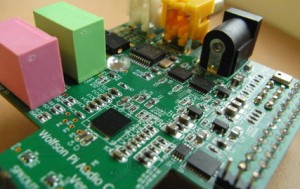 "Wolfson Microelectronics has more than two billion chips designed-in to consumer devices, from audiophile brands such as Linn and Astell&Kern, through to mass market devices like the Samsung Galaxy smartphones," said element14.
The first detail is that it is capable of 24bit 96kHz audio playback.
The second is that it will cost £24.01 – from distributors: element14 in Europe, and CPC in the UK and Ireland.
Playback is not the only thing the Wolfson Audio Card brings to the Raspberry Pi educational computer. It has both line-in, line-out/headphone and headset support, on-board stereo microphones, and digital audio S/PDIF in and out.
Communication is through Raspberry Pi's P5 connector (not available on revision 1 boards). P5 contains an I2S digital audio bus straight from computer's Broadcom main processor chip. When mated, the audio board covers Raspberry Pi's GPIO port, which is no longer available for other use.
Element14 is segmenting potential audio card applications into:
Play – Play back high definition audio files with stereo line-in and line-out ports to connect to a hi-fi system.
Talk – Build a VoIP conference phone by connecting a boom microphone headset.
Record – Record high definition audio using any of the microphones or line-in ports.
Activate – on-board digital microphones can be used to voice-activate a project.
Share – Connect Raspberry Pi to the cloud and play music anywhere around a house, and play on-line games with in-game audio via a gaming headset.
For those wanting to test the card's sound quality, Wolfson and element14 have teamed up with a company called HDtracks and Chesky Records to offer five free 96kHz/24bit audio recordings.
Wolfson chips on the card are: audio codec and mixer WM5102, WM8804 S/PDIF transceiver, and dual WM7220 digital MEMS microphones.
There is a rotatable Wolfson Audio Card image here.
There is more on getting hi-fi sound from Raspberry Pi here.