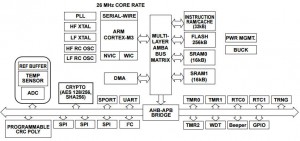 Called the ADuCM302x series and aimed at IoT end nodes (and made at TSMC), it consumes under 38uA/MHz in active mode and <750nA in stand-by.
With this it scores 245 on ULPbench, beaten only by Ambiq Micro's Apollo MCU (ULPbench 377) which is made using Ambiq's innovative and unusual sub-threshold transistor process. Asking around Embedded World, even other chip companies are impressed at Ambiq getting sub-threshold to work in production. Third on Next on the ULPBench list at 188 is STM's STM32L476RG.
It has reasons for going M3 rather than M0. "The Cortex-M3 processor is easily configured to achieve the right balance of performance and power while still offering critical security and reliability functions. Faster encryption enabled by a combination of hardware and software protection mechanisms provides read-protection to prevent the device contents from being read by unauthorized users," said ADI. "Additionally, in-circuit write-protection prevents the device from being reprogrammed with unauthorised code. Voltage monitoring in standby-mode and error correction for the flash memory increase reliability by avoiding corruptions which could result in mis-operation or system crashes."
Initial offerings are ADuCM3027 with 128kbyte of flash and ADuCM3029 with 256k.