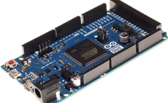 The Arduino Esplora is a microcontroller board derived from the Arduino Leonardo. It has a 16MHz crystal oscillator, a micro USB connection, an ICSP header, and a reset button.
The Esplora has built-in USB communication in addition to a virtual (CDC) serial / COM port.
The ATmega32u4 processor has 32 KB (with 4 KB used for the bootloader). It also has 2.5 KB of SRAM and 1 KB of EEPROM (which can be read and written with the EEPROM library).
To use the sensors the board uses an analogue multiplexer. This means a single analogue input of the microcontroller is shared among all the input channels (except the 3-axis accelerometer).
Four additional microcontroller pins choose which channel to read.
The Esplora can emulate a mouse or keyboard in the design of a controller for musical software, 3D modeling tools, or even a word processor.
It comes pre-programmed with a PC-compatible game controller script,.
The Esplora is 100% Arduino software compatible but doesn't provide Arduino Shield connectors (i.e. it can't be used with Arduino Shields directly).
The Arduino Esplora is available at a price of €41.90 +Taxes and €44.90 +Taxes for the Retail version (both supplied with USB cable).