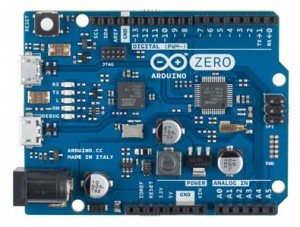 The Zero board is built around an Atmel SAMD21 32-bit microcontroller with its ARM Cortex M0+ core and 256kbit of flash and 32kbit SRAM.
According to Massimo Banzi, Arduino co-founder and CEO, the board's feature set will act as "a great educational tool for learning about 32-bit application development."
The board is compatible with 3.3V Shield that conforms to the Arduino R3 Layout, and can be programmed using the standard Arduino development environment.
There is also a full debug interface on the SAMD21 without the need for additional hardware.
The embedded debugger supports a virtual COM port that can be used for device programming and traditional Arduino boot loader functionality.
The first prototypes of Arduino Zero will be on display at Maker Faire Bay Area 2014 in San Mateo on May 17 and 18 at the following booths: