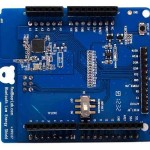 The SDK is compatible with a range of Arduino, ChipKIT shields that employ the nRF8001 Bluetooth Smart connectivity device.
Take the Electronics Weekly UK Salary Survey 2014 »
Arduino boards use series of development modules or 'shields' to create prototype systems. Shields perform individual or combined hardware tasks and can be connected to Arduino-compatible boards using the standard Arduino interface format.
Shields are available from many manufacturers and fulfill tasks such as sensors, motor-driving circuitry, LCD display, Wi-Fi, Bluetooth wireless technology, and Ethernet among others.
The Bluetooth Smart SDK is a port of the existing SDK available for the nRF8001 Bluetooth Smart connectivity device. The Bluetooth Smart SDK is available as a repository on GitHub where subscribers can fork their own versions and make pull requests and contribute to further improve and expand the SDK.
The software interface for the Bluetooth Smart SDK has been implemented on a number of microcontroller platforms such as ChipKIT, Maple, Teensy and mbed.
The Bluetooth Smart SDK is complemented by the Bluetooth Smart BLE Arduino shield from Red Bear Lab. The BLE shield board complies to the Arduino form factor and contains all necessary circuitry to enable an Arduino project to start communicating with Bluetooth Smart Ready products such as an iPhone 4S or later, smartphones using Android 4.3 or later, OS X Mountain Lion and later, as well as Windows 8 and later.
"Arduino has grown steadily in popularity over recent years," says Thomas Bonnerud, director of product management with Nordic Semiconductor. "It has provided a very accessible means to prototype quickly, simply and cost effectively. Its popularity is at the core of today's 'Maker movement'."
"Arduino is not confined to start-ups and is also used as a means of rapidly prototyping ideas at a number of large organizations. With this SDK for Bluetooth Smart, Nordic is supporting the Arduino community in their development efforts with exciting new technology," said Bonnerud.
Bluetooth Special Interest Group (SIG) has announced an update to the Bluetooth Smart specification which will now include increased co-existence support for LTE and avoiding near-band interference.
The Bluetooth 4.1 release also lays the groundwork for IP-based connections, extending Bluetooth technology's role as the essential wireless link for the Internet of Things.