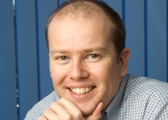 For companies in the microcontrollers business, 2011 will be remembered as the year ARM's Cortex products showed the true richness of its colours. The 32-bit market, although not yet the largest, is certainly the fastest growing and this, arguably, is due to the impact of Cortex.
Although Cortex immediately redefined accepted performance/cost tradeoffs, the true value of ARM's philosophy in the embedded market has become clearer now that large numbers of devices are available from a variety of manufacturers.
This year has seen microcontroller suppliers working harder to improve peripheral integration in relation to both the quality and performance of analogue functions, which now compare favourably with discrete devices.
As vendors optimise products for specific markets and applications we are seeing a greater diversity of peripheral sets, including extra connectivity options such as Ethernet, CAN, USB and wireless. We can also expect new dual core devices to come forward in the near future, which will allow developers to combine functions such as HMI and motor control, for example, in a single controller IC.
The developer community, for its part, has been coming to terms with the freedom to compare products from different manufacturers and choose the one that best suits their needs. Working with a common core simplifies porting of the design from one vendor's device to another, and developers can do this without the downside of having to invest in different tools or develop code for different processor architectures.
Meanwhile, the Cortex-A family is enabling the use of application processors in products that have historically been extremely price sensitive. Cortex-A will change the game in this sector as surely as the M architecture has revolutionised embedded design.
The challenge now becoming apparent is concerned with software enablement. It is critical for developers to identify the optimum drivers, board support package and middleware to build their applications successfully and to achieve the differentiated performance in their end product. However, selecting from the vast array of solutions on offer throughout the software ecosystem is not a trivial task.
Going forward into 2012, suppliers must help demystify this for their customers. At Silica, we see this as a fundamental need, and will be building on the software enablement teams we have established across Europe under the Core n More initiative to provide the engineering expertise needed to navigate the complex but important choices ahead.