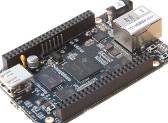 'Cape' is TI's word for a plug-in daughter board that pick-up I/O headers on BeagleBoard to add more sophisticated I/O – over 30 existing capes are compatible with BeagleBone Black," said TI.
Black includes the HDMI interface (in Micro, Type D connector form) of the two BeagleBoards, at the same time as selling for half the price of the original BeagleBone: $45 instead of $90.
How can it have a video interface and cost less?
"A big price difference is the RAM. We were using DDR2 in BeagleBone, now we are using the more commodity DDR3 at 400MHz. We saved a lot of money there," said Kridner. "Having 2Gbyte of on-board flash is saving money too. Our requirement is to provide software to run out of the box and, before, we were shipping with a microSD card. Now we have on-board flash which is cheaper, and faster because of the wide data bus and a new controller."
He also said that, even from the same supplier, TI found that the quality of microSD cards varied and needed to be watched.
The microSD is still there, available for additional storage.
On thing that has gone is the integrated USB to serial adapter. "We got a power saving," said Kridner.
Because it is based on a later member of TI's Sitara AM335x system chip family, Black runs at 1GHz compared with the original Bone's 720MHz, bringing processing up to the level provided by the xM.
RAM is also up to xM level, to 512Mbyte from 256Mbyte.
Included on the system chip are other functions, including a PWM waveform generator and an ADC.
From the processing point of view, the one thing the new BeagleBone has not inherited from the larger BeagleBoards is their DSP capability, which in the xM is a particularly impressive C64x processor.
Software
AM335x has an ARM Cortex-A8 processing core, and A8s are built on ARM's v7 architecture.
"Because it has a v7 ARM, it can run Ubuntu straight, and Android," said Kridner – straight, because Ubuntu has to be modified to run on v6 (pre-Cortex) and earlier ARMs.
Angstrom Linux distribution is pre-installed in the flash, with Gnome desktop and two browsers: Chromium (the open-source browser behind Google Chrome) and Firefox; as well as an IDE (integrated development environment) called Cloud9.
Black can entirely be powered through its USB connector if it is plugged into a PC or Mac, as it consumes 250mA, said Kridner, which is less than the original BeagleBone thanks to the loss of the somewhat power hungry USB to serial adapter.
When it is plugged into a PC, BeagleBone Black has been designed to appear as a USB flash drive, plus an Ethernet network adapter.
Appropriate drivers for Windows, Macs and Linux are included on the flash. "We are pretty confident it will work with all," said Kridner.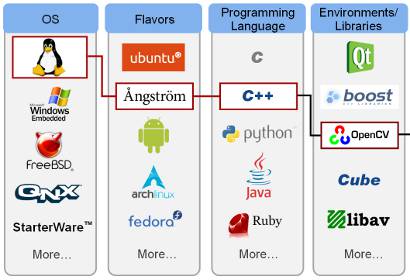 Education
While Beagle products have previously been marketed towards hobbyists, students, and other 'makers' as embedded controllers, Kridner is emphasising the educational possibilities of BeagleBone Black.
"It is hard to compete with Angry Birds. It is not enough only to be running scratch. Kids need do more than just engage with sprites on the screen. You need to give them a reason to get down to the low level," he said. "For young people to get really engaged, they need to set something high and set something low in the real world. It is really empowering when they see this happening. You need to get kids engaged in robotics."
It is possible, according to Kridner, to be toggling an LED in under a minute from turning the board on.
For just such activities, there are four LEDs on the board, plus the two I/O headers into which wires can be poked for direct connection, or into which capes can be plugged.
"You can interact with the pins directly from JavaScript running on one of the browsers. So you can edit a code line, hit run, and see an LED turned on," said Kridner. "It is easy to wire-up a pressure and temperature sensor breakout board, and a pressure/temperature app ships with BeagleBone Black. You can develop your own app: for example, one that will tweet the weather with JavaScript."
He is an evangelist for JavaScript: "JavaScript and HTML are everywhere. JavaScript is a great first language for kids as they can do coding in their browser. It is well suited to physical computing."
For more sophisticated programming, the computer also ships with a C compiler and a Python interpreter.
There is also Bonescript, Kridner's own contribution, which is a JavaScript library for physical computing with "Android-like functions like digital read and write, and analogue read and write", he said.
And, as protection from rough handling, it has been designed to drop into an Altoids sweet tin: a case for under $1.
Professional users
TI encourages users to develop projects using Beagle products and then either design in the complete boards, or use design data from the BeagleBoard.org website to include Beagle circuitry into their products.
"It is open hardware, so you can make own board, build one into your own project. There are no limitations and no royalties," said Kridner.
He points to two BeagleBone-based Kickstarter projects that are now products: Ninja Blocks and OpenROV.
Ninja Blocks reduces even quite complex electronic projects to Lego-like simplicity, even with Web connections. "A NannyCam is an out-of-the-box experience with Ninja Blocks," he said.
OpenROV is a kit (or self-build) miniature submarine with a camera.
For software, there is the C compiler, QNX RTOS (real-time operating system) is supported, and there is StarterWare which is a TI library for interfaces that will run on the processor from boot without an operating system.
Also the Angstrom distribution is part of the Yocto Project.
"A lot of different consultants have signed up to work with Yocto-compatible board support packages," said Kridner. "If you need to sign-up people-resources, can go to the Yocto Project."
Can BeagleBoard afford $45?
The original BeagleBoard was a joint project by DigiKey and TI.
Since then, Beagle activities within TI have funded themselves.
"It has pretty much been self-sustaining for five years now, with enough margin built-in to pay for the next platform," said Kridner.
But that was before this price drop.
"There is margin in $45, so our distributors can make money, and were are continuing to have a reasonable amount of margin to seed our next generation development – two to three years down the line," said Kridner.