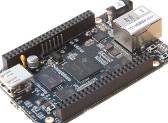 Texas Instruments has announced a $45 computer based around a 1GHz ARM Cortex-A8 processor, and aimed at the 'maker' market.
Called BeagleBone Black, it is half the price and has more performance than the original credit card sized BeagleBone.
At its heart is the firms Sitara AM335x chip, and the computer includes 2Gbyte of on-board storage pre-loaded with Linux.
It has USB, Ethernet and HDMI interfaces, as well as 65 digital I/Os and seven analogue inputs.
BeagleBone Black can be powered through its USB port, and is delivered with a USB cable.
How can you tell TI is aiming at Raspberry Pi?
"For $45, it includes all the necessary components in the box to connect a display, keyboard and network, providing a lower total cost of ownership than the nearest competitor and allowing for immediate development," said Ti, going on to claim: "Sitara AM335x processor enhances the user experience by enabling an advanced graphical user interface and more than 2x higher performance than ARM11-based solutions."
Raspberry Pi has an ARM11 core, and Electronics Weekly doesn't know of another low-cost single board computer that uses it.