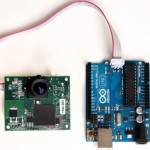 The camera called Pixy has an Omnivision OV9715 1/4-inch image sensor with 1280×800 resolution. It also incorporates an NXP LPC4330 dual-core ARM processor that can process images at 50 frames per second.
It is a joint development between Carnegie Mellon University and Austin, Texas-based Charmed Labs.
It has been designed as an add-on to the Arduino embedded computer platform. But Pixy has its own dual-core ARM processor.
"We tried to make Pixy as easy to use as possible. We think this will make it popular with the robotics and maker communities," said Anthony Rowe, CMU faculty member.
"We've opened up the design by using the Open Source Hardware licensing model. You get source code, schematics, board layouts, everything," said Rich LeGrand, Charmed Labs president.
It has interfaces for UART serial, SPI, I2C, digital or analogue I/O.
The product is part of a Kickstarter campaign, and is available by contributing $59 or more.