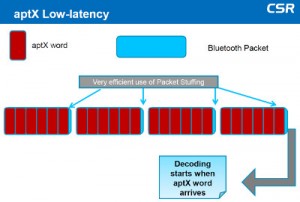 It is based on CSR's vendor-neutral SyncLock technology, meaning elements of the network don't necessarily need to be single sourced.
"Consumers want networked audio products that accommodate any input and music source they want to use, and allow them to listen to different content in different rooms without any effort," said Anthony Murray, senior vice president of the Business Group at CSR.
"Building on CSR's strong audio heritage, we have developed a flexible platform that enables manufacturers to offer consumers cost-effective whole home audio systems that just work – giving them the experience they desire."
Features of the VibeHub highlighted by CSR:
Access point agnostic: "VibeHub does not rely on special features in a home's access point so there is no need for end users to purchase additional equipment"
Extensive connectivity functionality: "The SyncLock technology inside VibeHub enabled products allows for more connectivity options than any other solution on the market, including Bluetooth, Bluetooth Smart, 802.11n, Ethernet, SPDIF as well as analogue jacks"
Interoperability with a wide range of devices: "Common music sources including Windows PC, Android, as well as Apple iOS and OSX devices are interoperable. The system allows bridging into a network via existing protocols which lowers the cost of entry for the consumer as they can use existing music sources in the home"
Consumer experience: "The VibeHub takes advantage of CSR aptX coding technologies for high-quality audio over a Bluetooth connection and a higher bit rate version with forward error correction (FEC) for IP networks. This high quality IP network variant is supported by SyncLock technology, which has been developed for broadcast Audio Over IP applications. SyncLock distributes audio over the network and enables tight synchronisation between speakers, meaning there is no noticeable time-lapse experienced by listeners in different rooms. The system can also support multi-user scenarios, giving users the option to listen to different music in different rooms, from a variety of different sources"
Intuitive system control: "CSR has developed Android and iOS apps to control the system which can be easily reskinned by end brands to fit with their look and feel. Many controllers can be used concurrently, enabling a true multi-user, multi-room audio experience"
As mentioned, the VibeHub supports aptX audio. This audio coding algorithm originated from PHD research at Queens University Belfast by Dr. Stephen Smith in the late 1980's and was adopted by Hollywood as well as the radio industry.
It manages, via bit rate efficiencies, to preserve audio quality in low-latency comms situations. The latest version – aptX Low Latency for use with Bluetooth Smart – promises full audio and video "lip syncing" (a latency < 40 ms) to support mobile (wireless) gaming. It can be found in the likes of the Samsung Galaxy S4 and S3, and the Sony Xperia Z, and Z1…
CSR acquired APT Licensing in July 2010 and according to the company aptX technology now has 250 licensees, is built into 20 million Bluetooth headsets and speakers, and features in 400 million handsets and tablets. Indeeed, CSR states that 75% of Android 4.0+ (ICS / JB) smartphones are aptX enabled.