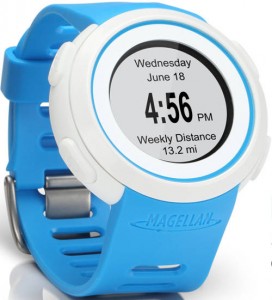 It is particularly intended for use in sports, where it relies on the user's iPhone (only certain models) to provide GPS reception and data processing. Currently it works with Strava, MapMyRun, Wahoo Fitness, and iSmoothRun sports apps.
The Consumer Electronics Show (CES) Latest News Roundup »
"Echo is the first 'open' sports watch platform that enables application developers to augment their apps to be viewed on and controlled from the wrist," claimed SiLabs.
For apps to control the watch, it uses the Wahoo Fitness API. "This open platform makes it easy for developers to communicate with Echo," said Magellan.
Certain versions of Echo will work with a heart-rate sensing strap. It is unclear whether a phone is needed for heartrate monitoring.
Originally developed at Energy Micro, 32bit Giant Gecko has an ARM Cortex-M3 core and some of the lowest power peripherals available.
With a low-power MCU and low-power wireless interface, and the energy-sapping GPS receiver elsewhere, Echo needs only a lithium coin cell, rather than the rechargeable battery usually built into location-aware sports watches.
Magellan claims it will work from six to 11 months on a single CR2032 coin-cell.
The time cannot be updated directly, instead the associated phone mush run the 'Echo Utility App' to change watch faces, update time, and update firmware.
An Android version is under development.
There is more information, including a gallery of watch images, on the Magellan website.