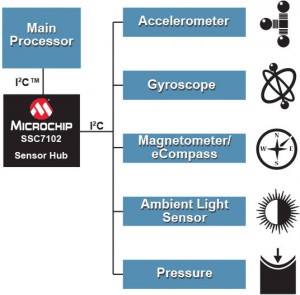 "Data from multiple sensors, which sense motion via accelerometers, magnetometers and gyroscopes, as well as environmental factors such as light, temperature, humidity and pressure, needs to be incorporated or 'fused' in the system," said Microchip. "We have partnered directly with multiple sensor manufacturers and sensor-fusion specialists, such as Bosch and Movea, to create this solution. The SSC7102 consumes ~4mA while running sensor-fusion algorithms."
The Consumer Electronics Show (CES) Latest News Roundup »
The chip is available in a 6x6mm BGA package. Samples are available now and volume production is expected by the end of this quarter.
Use is expected in Windows® 8.1 tablets, laptops, ultrabooks and phones.
SSC7102-GQ-AA0 version
BMC150 Bosch mag+accel
BMG160 Bosch gyroscope
BMP280 Bosch pressure
ISL29029 Intersil ambient light
Bosch Sensortec FusionLiv fusion
SSC7102-GQ-BA0 version
MPU-6500 Invensense accel+gyro
AK8963C AKM mag+accel
ISL29029 Intersil ambient light
BMP280 Bosch pressure
Movea Smart Motion Technology fusion