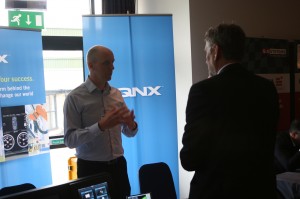 A series of free one day events will take place in Bristol (May 20th), Cambridge (May 22nd), Manchester (June 3rd) and, for the first time, Uphall, Scotland (June 5th).
Software reliability and the development of safety critical systems. There will be three half-day workshops covering topics such as debugging techniques for safety critical software, the MISRA C:2012 coding standard, and the development of systems requiring certification.
The agenda of technical presentations will include development strategies for developing reliable systems and exploring software verification tools.  There will also be a discussion on the use of open source software for reliable systems.
German debug tool company Lauterbach is sponsoring the 2014 conference along with embedded systems training experts Feabhas and Italian embedded computer manufacturer Eurotech.
Exhibiting companies and presenters will include Wind River, QNX, JTAG Technologies, LDRA and Phaedrus Systems.  More than 40 companies will be exhibiting throughout the 4-day series of events.
"The 2014 event will include both a software stream of presentations, and a hardware stream of presentations," said conference manager, Richard Blackburn.  "Some key topics for this year's event include Android development, Device to Cloud technology, Open Source Software for Critical Systems and GUI/HMI development."
The Device Developers' Conference is structured to provide information on embedded design for electronic engineers and software developers.
SDC Systems, design and test tool supplier will discuss the best practices for increasing the adoption of open source software (OSS) in safety-related applictaions. The presentation will also touch on the application of automotive-driven standards and certification, including MISRA, ISO 26262 and IEC 61508, whilst ensuring the secure use of open source software.
"The automotive industry is a leader in the use of standards and processes to govern the development of secure and reliable embedded software," said SDC director Peter Heyes. "They are also heavily leveraging the open source software (OSS) ecosystem, taking advantage of millions of lines of code to augment development and push the innovation envelope. This presentation will explore the fact that embedded software development teams outside of the automotive industry can benefit from adopting many of their processes and approaches, in the development of secure and reliable systems."
At the heart of the conference, and associated exhibition, is the development of embedded systems and real-time computing.
Another theme will be 'The Internet of Things' – a look at enabling embedded systems for the Internet and interaction with Cloud technology. There will also be a discussion on 'device security', presenting an overview of the key embedded cryptography techniques and data protection protocols.
A third theme will be display technology and presentations will explore display hardware options and specific design issues when interfacing with embedded computer hardware.
A half-day workshop at the conference will explain, in detail, the processes required for the development of feature rich graphical user interfaces using a single board computer and an RTOS.
Additional topics will include advanced debug tools, ARM Cortex programming, Android for embedded development, software licencing and protection, Embedded Linux development and developments in RTOS technologies.
"We have over 200 developers registered to attend and more than 50 developers registered for places on the technical workshops," said Blackburn.
Attendance at the conference, including the agenda of technical presentations, is free of charge, although there is a small charge for a place in the half-day workshops.  Refreshments and lunch are provided free of charge for all delegates.
The Device Developers' Conference will be co-located with the first UK Reliable Software Developers' Conference.
To register for a place in advance.