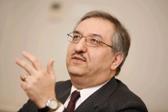 According to Tudor Brown, president of ARM, this opens "a brand new application area for ARM processors in a smartphone or tablet design".
"I am convinced that the availability of sophisticated ARM processor-based PMICs will make a real impact on the user experience delivered by next generation devices," said Brown.
The company will use the prcoessor to provide power control and battery management functions for portable devices based on multicore application processor-based platforms.
"By embedding an efficient 32-bit processor core into a PMIC we push the boundaries of system power design and bring sophisticated digital control to the world of smartphone design," said Jalal Bagherli, CEO at Dialog.
The Cortex-M0 is ARM's smallest and lowest power processor core.
The stripped-down 32bit core, with only 12,000 gates, is aimed at replacing 8-bit and 16-bit processors.
"It has enabled us to secure design wins in new market areas, including mixed signal, touch-screen control, flash card, system-on-chip control and finite state-machine replacement," said ARM.
While 32 bits is overkill for many applications, it inherently removes the hassle of byte manipulation when handling words longer than 8bits on 8bit cores – ADC outputs and protocol stacks for example.
www.dialog-semiconductor.com