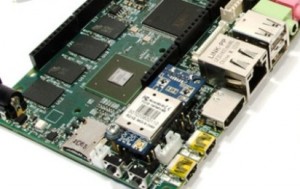 The embedded computer is based on the ARM processor -based Freescale i.MX 6 CPU and runs an optimised version of Linux Ubuntu for ARM architecture, called Linaro (11.10 at the moment).
The platform will run Android 4.0.4 Ice Cream Sandwich and applications interface with the Arduino-compatible board through Accessory Development Kit (ADK) 2012 connection for building accessories and smart devices based on Android.
"It is compatible with all the sketches, tutorials and resources available on the Arduino community as well as all the shields, sensors and actuators for Arduino DUE available on the market," said the developer.
As well as the 1GHz dual or quad core ARM cortex-A9 CPU there is an Atmel SAM3X8E ARM Cortex-M3 CPU, the same as Arduino Due, for the GPIO.
Graphics support includes three separated accelerators for 2D, OpenGL ES2.0 3D and OpenVG.
The board has RAM DDR3 1GB, 54 digital I/O and an analogue input on the Arduino-compatible R3 1.0 pin out.
It also has its own Wi-Fi module.
HDMI and LVDS and touch control through I2C signals are supported.
A Micro SD card is used as OS boot device.
There is an Ethernet RJ45 (10/100/1000Mbit) port, Mini USB and Mini USB OTG.
element14 ships 500,000 Raspberry Pi computers