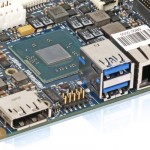 The board has two independent graphic outputs (DP + LVDS), 1x Gigabit Ethernet, 1x USB 3.0 and 3x USB 2.0.
Embedded applications range from POS/POI systems and kiosk terminals with up to two independent monitors up to digital signage players or professional gaming computers.
Industrial applications can be found in HMIs, control systems and automation computers as well as in medical PCs. Outdoor and in-vehicle computing applications can be covered too, as the boards can also be deployed in extended temperature ranges of up to -25°C to +75°C (E1).
First samples of the new Pico-ITX motherboards with long-term availability will become available in March 2014. Further information is available at the Kontron pITX-E38 product website.
There is also a new Mini-ITX Intel Atom E3800 embedded motherboard with an industrial-grade design.
This also has an influence on the interfaces. The board supports not only Display Port 1.1a but also 24bit LVDS.
There is also 16GB-sized bootable NAND Flash memory (eMMC).
The Mini-ITX motherboard becomes available in April 2014.