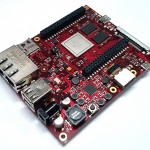 The first is the Hachiko development board for the Renesas RZ/A microcontroller, which is an ARM Cortex-A9-based MCU. This is positioned as a low end design board for applications such as door entry phones, barcode scanners and data communication modules.
A new high-end board is the Tibidabo reference board for the Freescale i.MX 6Quad and running on Linux. The board has a graphics processor and two LVDS interfaces and target applications include digital signage.
"ArchiTech was introduced at embedded world 2013 and over the last 12 months has developed significantly," said Laurence Dellicott, Technical Director EMEA Silica. "This year we are introducing a number of new development boards as well as our own embedded Linux distribution, developed within the Yocto project. Having the boards, software and development teams all in house enables us to support our customers more effectively enabling them to achieve their design goals."
Both boards come with board support packages (BSPs), software drivers and training.
A feature of the ArchiTech developemt board family is that schematics, gerber files and a common SDK are available across the range. Similarly all BSPs are developed in house by the ArchiTech team.