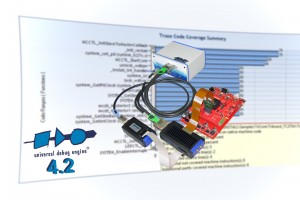 It has been optimised for testing 32-bit multicore microcontroller target devices, and uses visualization options during system level testing.
The trace framework of the Universal Debug Engine 4.2 has features such as relocation of the data processing in a separate process not only increases the speed of the evaluation, but also allows persistent storage of trace sessions for analysis at a later time without direct access to the target.
An enhancement of the proven Universal Emulation Configurator (UEC) of the Universal Debug Engine (UDE) ensures an even more efficient use of the so-called Emulation Devices offered by Infineon, Freescale and STMicroelectronics for some SoCs.
Programming of the additional trigger logic contained on the Emulation Devices is performed by a graphical configuration of trace tasks, by which signals and actions are linked via a state machine.
With PLS' Universal Access Device 3+ (UAD3+), a powerful hardware tool with 4 GB external trace memory is available for recording trace data.
The Aurora trace pod supports four serial high-speed lanes each with 3.25 gigabit per second (Gbit/s) transfer rate and a parallel trace pod for recording signals up to 500MHz, the UAD3+ is also well equipped to meet future requirements.
Microcontrollers supported include Infineon's AURIX family, Freescale's Qorivva MPC57xx family, STMicroelectronics SPC57x family and the Hercules safety-critical microcontrollers from Texas Instruments.