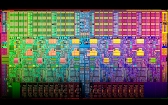 The first serious microprocessor challenge to Intel's leadership position will not be from ARM-based processors, but Freescale Semiconductor which is already making inroads into the blade server market with its Power Architecture.
However, ARM processor-based systems are expected to follow Freescale into the blade server market.
"Freescale is making the biggest challenge right now," Rob Pettigrew, director of marketing at Emerson Network Power's embedded computing business told Electronics Weekly.
"ARM will be there too," said Pettigrew.
"I expect there to be major announcements in the blade market next year," added Pettigrew.
ARM's move into the server market is expected to be based on its next generation ARMv8 architecture, the first ARM architecture to include a 64-bit instruction set.
ARMv8 architecture's 64-bit processing and virtual addressing differentiates it from the 32-bit ARMv7 architecture which the Cortex-A9 and Cortex-A15 processors are built on.
Emerson is the largest supplier of Advanced Telecom Computing Architecture (ATCA)-based embedded computer systems with a 19.2% market share in 2011.
This is a market which has 12% annual growth and is expcetd to be worth $831.2m by the end of 2012.
ATCA-based boards are used in CPU blades and fully-configured systems which the main end-markets being telecoms infrastructure equiment and servers.
Emerson's ATCA prodct range is based largely of Intel processors and the latest telecoms server the ATCA-7370 uses the Intel Xeon processor E5-2600.
According to Pettigrew: "The Intel Xeon processor E5-2600 family offers significantly better performance in control plane applications than any other server processor."
Emerson's ATCA product range is not exclusively wedded to Intel and it has introduced blades based on non-Intel processors.
The 40G ATCA payload blade, the ATCA-9405 is based on dual OCTEON II CN6880 processors from Cavium, each with 32 cnMIPS cores running at up to 1.5GHz.
While Emerson's Katana QP blade is based on a single or dual MPC7448 Power Architecture processor running at up to 1.4 GHz.
Emerson earlier this year announced its committment to the 28nm OCTEON III MIPS64 family of multicore processors from Cavium for ATCA systems.
"AdvancedTCA has become the industry standard form factor for carrier grade infrastructure. We are committed to staying at the forefront of the Cavium processor roadmap to address the processing density and scalability needed for the future," said Pettigrew.