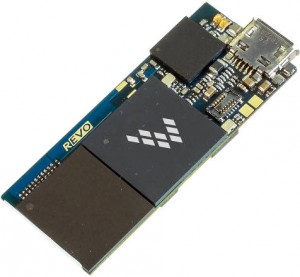 Based around a 1GHz ARM Cortex-A9 application processor running Android 4.3, it is called Wearables Reference Platform (WaRP).
"Wearables represent one of the sensors for the Internet-of-things, and hold tremendous promise for equipment makers, service providers and consumers," said Freescale director Rajeev Kumar. "This solution is engineered to streamline the design and development of wearable products."
The software comes from Kynetics and Revolution is providing hardware – with consists of a main board, daughter card, LCD (E Ink option planned) and battery.
Freescale chips include: i.MX 6SoloLite (Cortex-A9, MMA9553 (accelerometer chip pre-programmed as a pedometer); FXOS8700 (electronic compass and accelerometer), and a Kinetis KL16 microcontroller  (ARM Cortex-M0+ core). The KL16 is on the daughter card for sensor aggregation.
Maxim provides the MAX77696 power management IC, and the LBEH17YSHC Wi-Fi+Bluetooth module (802.11b/g/n, Bluetooth 4.0 Smart + EDR) comes from Murata.
To keep development simple, software on WaRP is a standard Android SDK.
Service and support for the design will come from what Freescale describes as: "a non-profit, community-based organisation", and "the solution's hardware and software will be open-sourced and community-driven. No closed development tools or licensing fees are required when used in conjunction with open source resources. In addition, WaRP will have its own .org community."
WaRP is planned to be available in Q2 this year for $149. Applications are expected in sports monitors, smart glasses, activity trackers, smart watches, healthcare, and medical applications.
Capability at a glance
Time, chrono, lap time, alarms
Music player with audio streaming via Bluetooth
Photo and video player
Wi-Fi
Compass
Free fall detection
Pedometer/activity monitor
Wake on motion
Charging over USB
Wireless charging