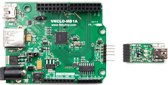 The company is tapping in to the Arduino open-source community to simplify the design of USB 2.0 interfaces in embedded systems.
Since its creation by Italian academics, Arduino has been used by developers for the design of control interfaces.
It consists of an open hardware design for a single-board microcontroller, with embedded I/O support and a standard programming language, based on Wiring which is essentially C/C++.
FDTI's Vinculo USB 2.0 platform is built around its Vinculum II VNC2-64 dual-channel host/slave controller with the capability of interfacing to the growing range of I/O application boards (shields) developed by the Arduino open-source community.
The VNC2 combines a 16-bit/48MHz CPU core, 256kbyte of flash memory and 16kbyte of SRAM memory and provides support for external UART, FIFO, PWM, GPIO and SPI slave/master interfaces.
"As well as the hardware platform, we can provide the complete tool chain to allow designers to develop their own applications," said Ian Dunn, engineering manager at FTDI.
A big attraction of the Arduino concept is its 100,000-user-strong design community.
The Vinculo programming language utilises a subset of standard ANSII 'C' with FTDI supported, free of charge software development tools, libraries and reference designs.
The firm now offers a development environment based on the company's Vinculum-II (VNC2) dual channel USB Host/Device controller.
Called VNCLO-START1, the kit is made up of a Vinco motherboard and a VNC2 debug/programming module.
The kit is supported by a set of free to download libraries that include USB host/device drivers and an easy to use software development tool chain (consisting of a 'C' compiler, assembler, and debugger) for generating firmware.
The Vinco motherboard integrates an 8-channel, 10-bit ADC, simplifying connection to sensors, actuators and other analogue devices.
It supports 38 general-purpose input/output connections. The Vinculum-II controller chip at the heart of the board integrates a 16/32-bit (instruction/data) microcontroller core, 16kbyte of RAM and 256kbyte of flash memory, along with a range of interfaces (UART, SPI, GPIO, FIFO and PWM).
There is also an option for a prototyping board accompanied by a set of interconnect, optoelectronic and passive components for the development of a complete I/O application board based around the open-source Arduino concept.
The VNCLO-START1 kit is priced at $44.44 for one off purchases.